TRACK DRIVEN SCISSOR LIFTS
An aerial work platform manufacturer – with particular focus for TRACK DRIVEN SCISSOR LIFTS
OMEGA scissor lifts are designed with customer needs as main mind set. The production process is a composition of narrowed down procedures, making sure that only high grade and best quality machines are being produced. Keeping quality to the highest level is the pitch within all aspects. Continues monitoring production processes, custom feedback, field-experience and enhance survey monitoring, set the next level of quality standard in all OMEGA SERIES.
The OMEGA 400TS series is the compact track driven diesel powered scissor lift. With a generous 5 meter long work platform, the individual powered dual track base, it is the ultimate rough terrain scissor lift, a top-notch tool for construction work. Thanks to the track drive, the OMEGA 400TS series can be used where rough terrain access platforms simply cannot get any further.
The OMEGA 600TS Series is the crossover between the traditional RT scissor lift and on the other end the high end greenhouse construction platform. A fully-fledged greenhouse construction machine, but also for numerous facade & construction work, the 600TS meets all needs. This model gives maximum performance, thanks due a series of standard features, such as hydraulic slide-out decks(7 meters), rotation (612TS) and a heavy duty 37kW digital diesel engine.
The OMEGA 800TS series is the proven authentic greenhouse construction machine. The range comes with various deck configuration options - in terms of dimensions and extendable sideways or front / rear. Standard functions are rotation, level options and selectable driving performance, from high speed to high torque. Numerous options are offered with the 800TS series, including glass lifts (front & rear) and hydraulic crane arms with vacuum pads for placing glass.
OMEGA 900TS series is the result of dynamic market developments. Need for a traditional greenhouse construction machine, but traditional working height is no longer sufficient, the 900TS goes further and provides a maximum working height of 13 meters! The series has various deck configuration options. Standard functions include rotation and level options. Numerous options are offered with the 900TS series, including glass lifts (front & rear) and hydraulic crane arms with vacuum pads for placing glass.
The giant among the construction platforms - OMEGA 1200TS series. Featuring a 4x hydraulic slide-out decks, creating a huge ergonomic work platform: up to 60 m2. All major features are standard on the 1200TS series, including: rotation, level system, lifting capacity up to 3,000 kg, AC outlets, wireless radio control, moving functions all can be operated proptionally. This BIG construction machine is powered by a 57kW KUBOTA Diesel engine.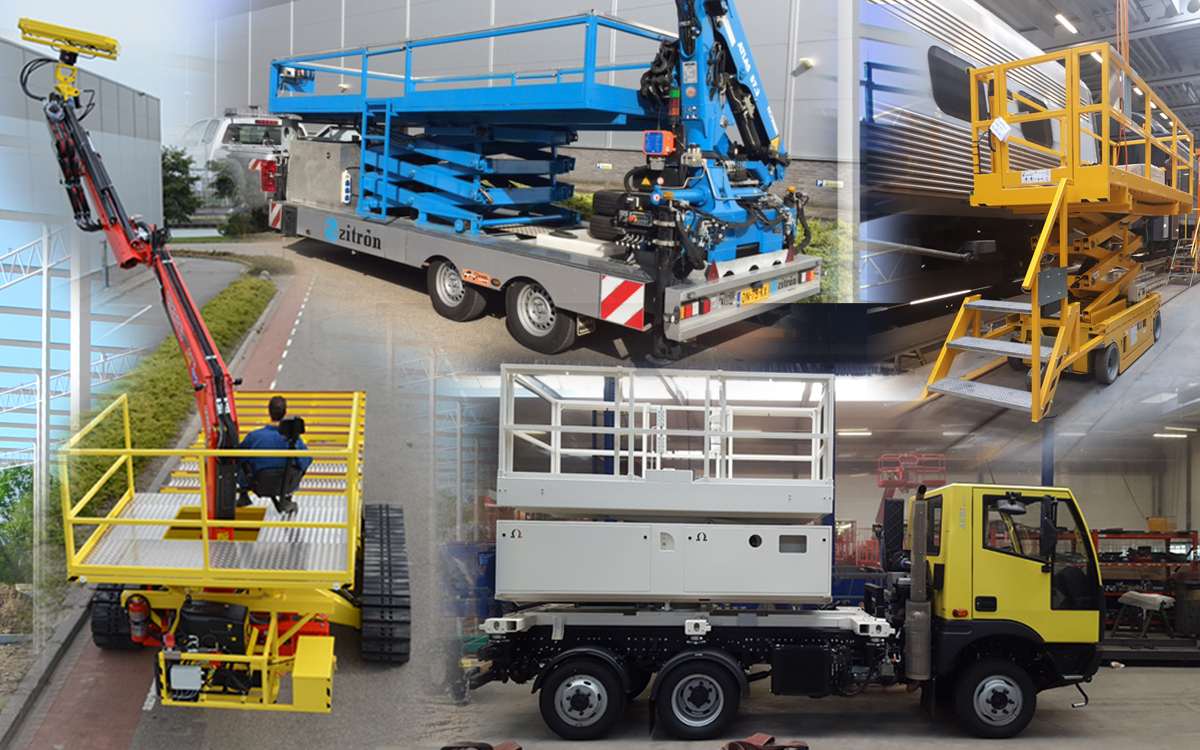 Besides the range of track driven scissor lifts, Omega Solutions has an R&D; department for custom built machines. With the know-how of production-based manufacturing and being able to produce a design that meet the needs of customer-specific requirements, Solutions has designed, manufactured and supplied many a special product. Where safety, ergonomics and conformity are primary objectives - and above all to deliver a platform product in accordance with customer specific requirements, Omega Solution offers a unique package of disciplines.